When the snow started falling again this past Saturday, and my flow chart concluded we might as well stay inside rather than brave the elements, the kids and I decided to make the most of it with some indoor winter inspired fun.  Homemade playdough that looked like snow was first on our list. We found our recipe on this blog, and were happy to discover we had everything on hand.  Helping me mix up the playdough and then playing with it kept the kids busy for quite a while.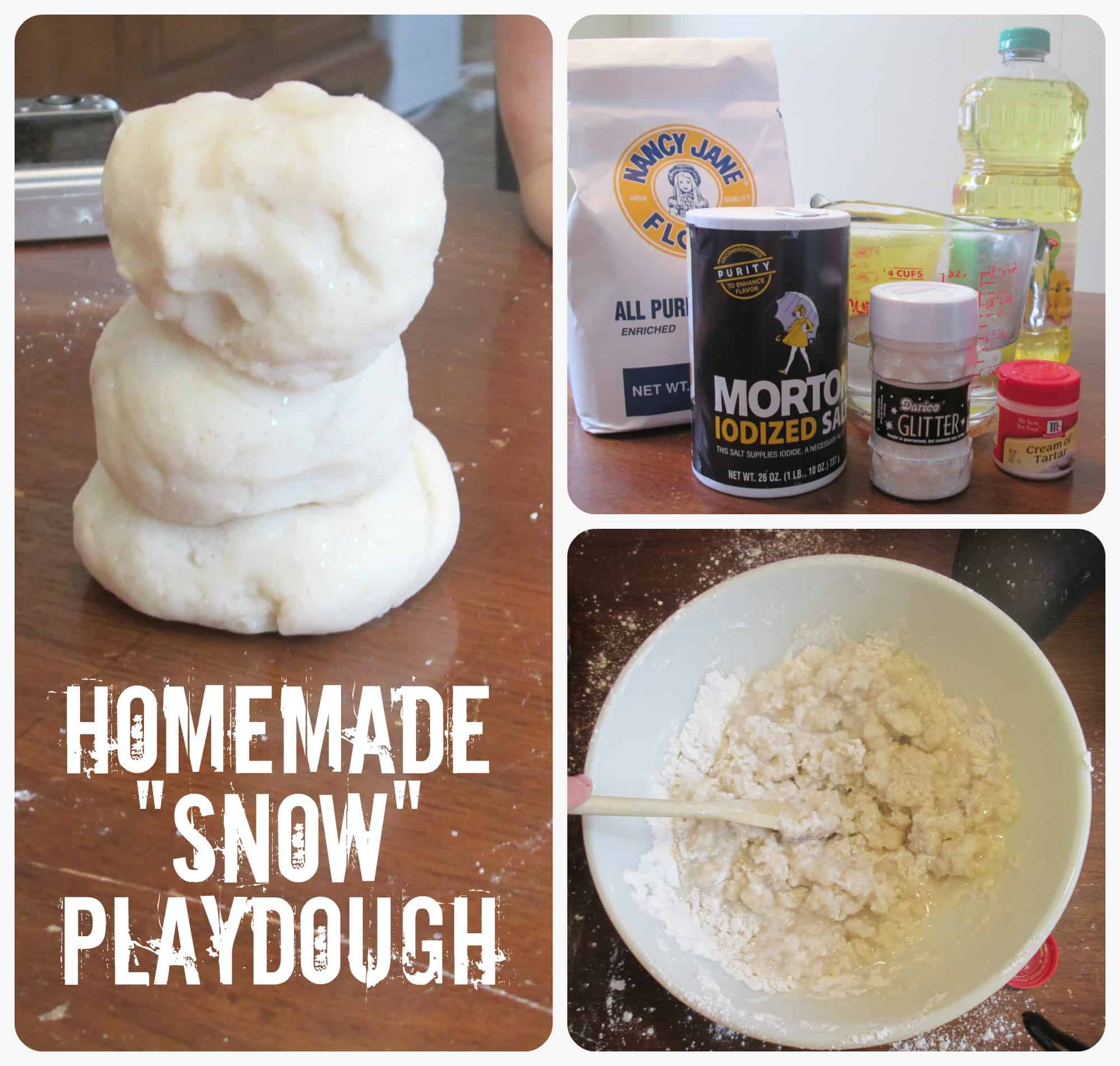 I thought this playdough turned out really well.  The dough was really easy to work with, and the snow color and snow sparkles made it a lot of fun.  Follow the recipe below to make your own!
Mix the following together in a bowl:
2 cups flour
1/2 cup salt
2 tablespoons cream of tartar
2 tablespoons of vegetable oil (we had canola on hand)
glitter (the recipe called for 1 tablespoon, but I think we used 2 or 3 tablespoons)
Add 1.5 cups of boiling water to the mixture and stir until combined
When it is cool enough to touch, knead it on the table for a minute, and if needed, add extra flour to get the consistency right, and you're all done!
Now, onto indoor ice skating!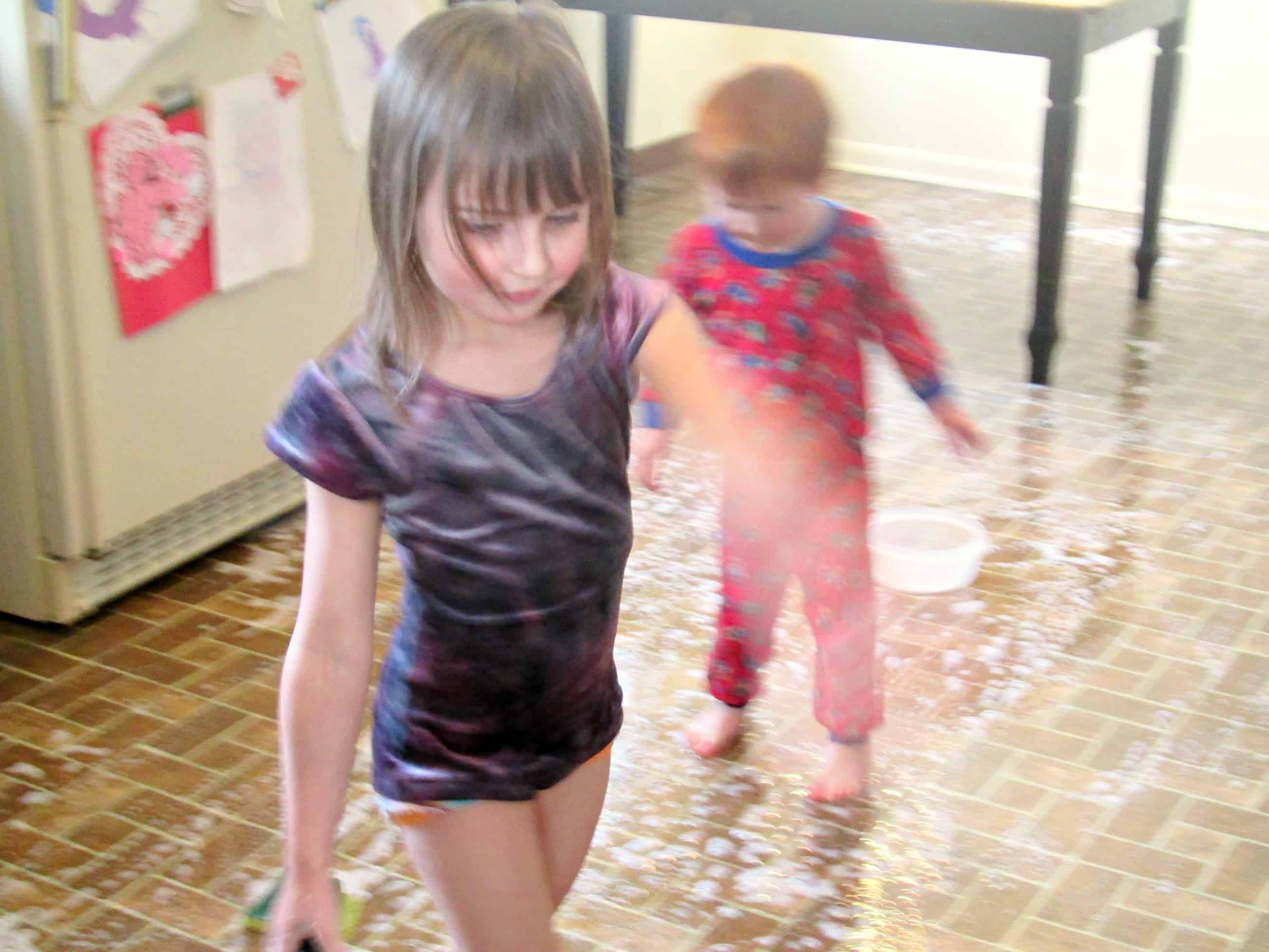 After we cleaned up the playdough mess, we were ready for "ice skating".  The order of events is important as you will soon discover; make the mess with playdough first, sweep your floor, and pick up anything else that is on your floor.  Get some pans of warm water, add a little dish soap, and let your kids dump it all over the floor to create the ice skating rink.  Then let your kids go wild sliding around on the floor, getting wet, and having a wonderful time!  The girls started out in dance outfits, and Sullivan was still in his PJs, but by the end, all three were in their underwear, but of course I left off photos of that!  The floor does get nice and slippery and the kids actually get going fairly fast on it.  Lilly loves to do a little run and then slide on the floor on her knees, hence the action shot in the first collage.  Charity and Sullivan like to do ice skating twirls, and then sit down and slide across the floor.  The best part of this activity is that while the kids are sliding around the floor and having a wonderful time, your floor is getting a good scrubbing!  I know it all seems very strange, but this is how we roll!  My kids love it and probably slipped around for at least an hour while I watched from the hall and did some computer work.  We do have the perfect floor for this activity.  Our kitchen is retro with a vinyl floor in a lovely fake brown brick pattern.  A real stylish gem.  This summer we are remodeling our kitchen.  Our current cabinets are original to the house built in the 1950's, so I think it might be about time for an upgrade!  After the remodel chances are we will not have such a great floor for this activity, but in the meantime, it's a great way for the kids to play on a snowy day, work out some energy, and I get a clean floor to boot.  When everyone was tuckered out, and their knees were red as can be from all the sliding, we just threw some rags on the floor, and walked on the rags to soak up the extra water and Voila!  Kids are happy, and mom has a clean floor (for at least an hour!).
So do you think indoor "ice skating" looks strange or fun? Have you ever made homemade playdough? Here's hoping this is our last snow day until next winter!