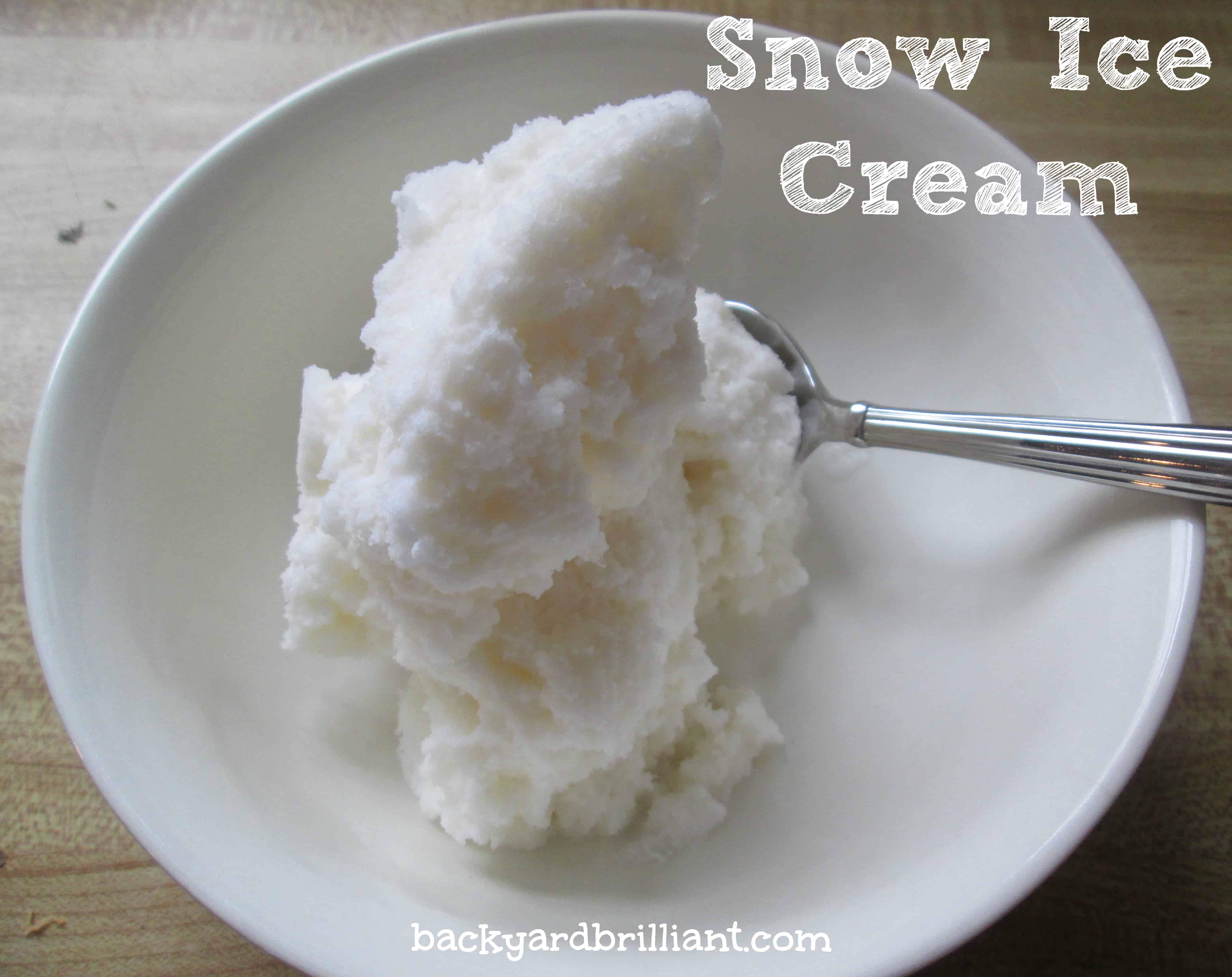 We had yet another snowfall last week (I really try not to be one THOSE people who are always complaining about the weather, but this winter is wearing me down.  I'm feeling a little snow crazy).  After the kids and I shoveled the driveway (they were actually a big help), I thought we needed to do something fun with our snow day.  I had run across a recipe for snow ice cream on About.com, and much to my amazement, the ingredients were basics that we always have on hand.  My kids love to help me cook and eat sugar, so this activity was right up their alley!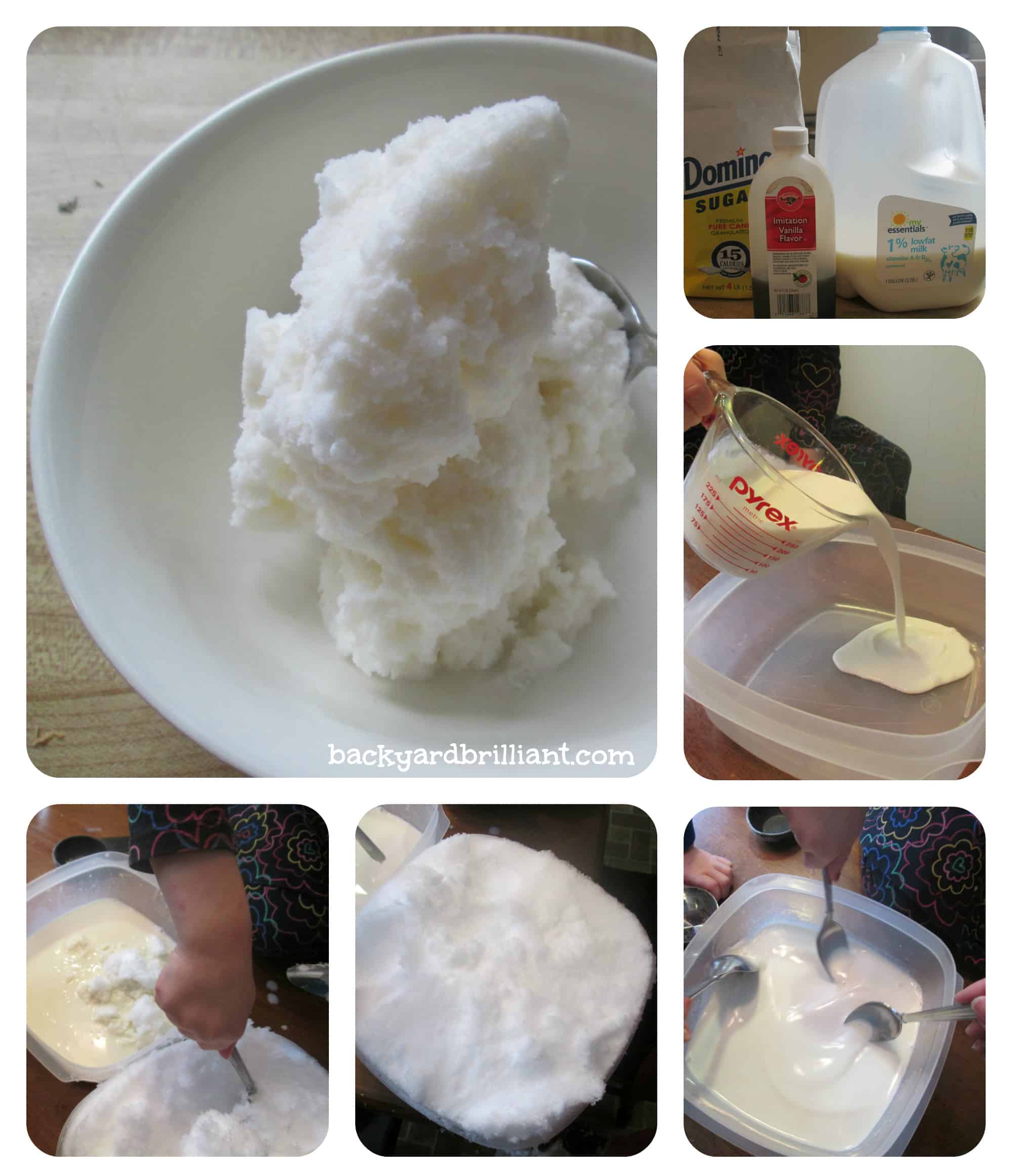 First we began with 1/2 cup of sugar, 1/2 teaspoon of vanilla, and 1 cup of milk in a bowl.  I actually had a little heavy cream I wanted to use up so I added that to my measuring cup first, and then topped it off with milk until I had one cup.  The directions said to stir until the sugar was dissolved, so we stirred, and stirred some more.  I don't think the sugar ever fully dissolved, but we figured it would be good enough.  At this point Lilly had just come in with some fresh snow (I had given clear instructions not to get yellow snow!).  We slowly added snow to our milk mixture, and stirred some more.  I was surprised at how frozen everything remained, I really thought that it would become a runny mess, but instead, when the snow was added, the mixture stayed nice and thick.  We added about 4 cups of snow in total, stirred it well, and then dished out our snow ice cream to everyone.
The kids loved it, and I must say it tasted really good and was nice and creamy.  We had to be on the lookout for a stray piece of grass or two, but it was a big hit despite that!  Now I realize this may not be a go-to recipe for our germaphobe friends (and yes, we still love you…you with your Purell CamelBaks and weekly Bleach baths….) but we tend to be a bit more casual, so the snow aspect didn't faze me.   When life gives you snow, make snow ice cream, right?!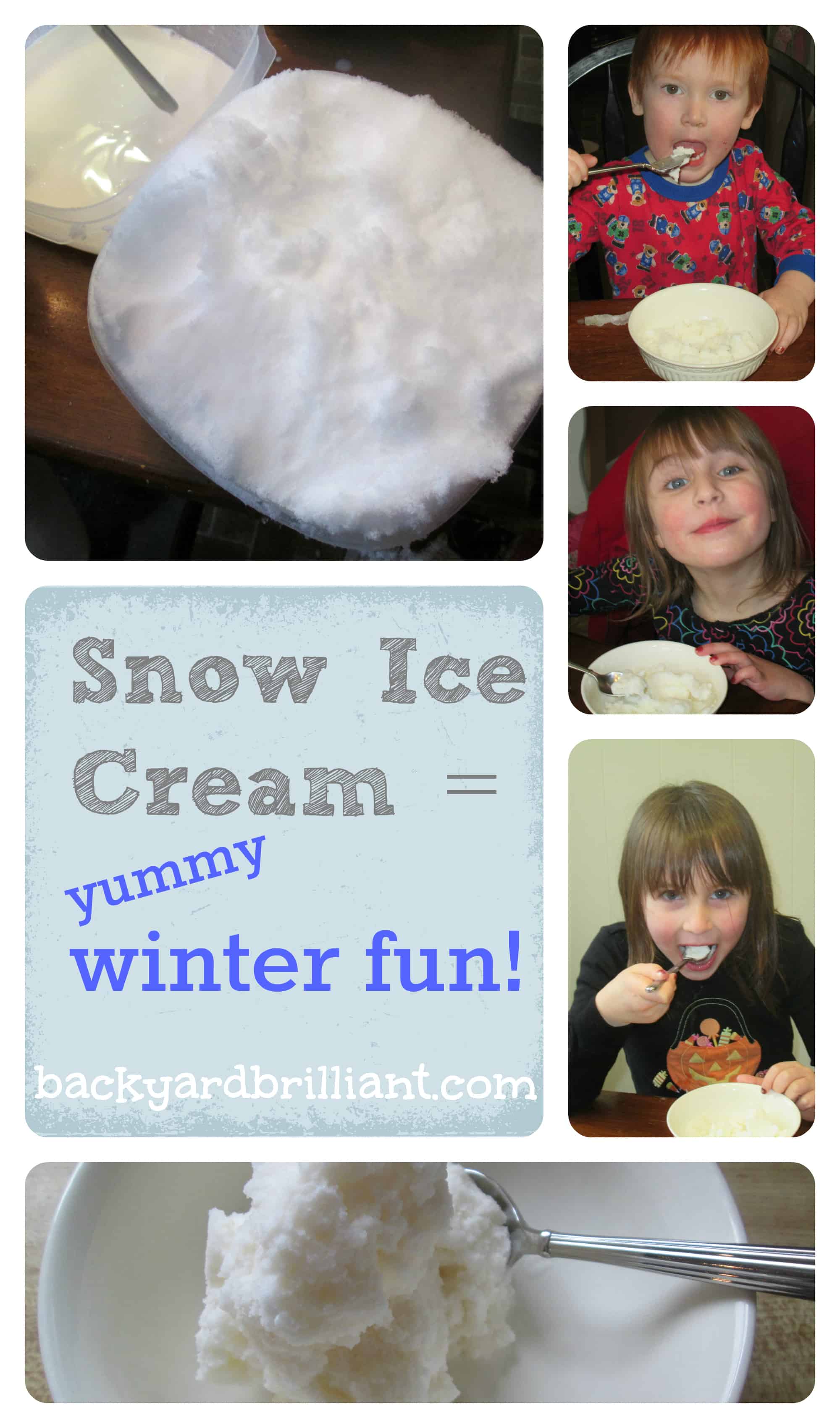 Confession time . . .
Hold onto your hats my awesome organic Mamas because right before we went outside to shovel, the kids had a big snack of Tostitos hint of lime tortilla chips and buffalo chicken dip leftover from the super bowl (the hint of lime chips really are the absolute best with buffalo chicken dip surprisingly enough!).  Then we made the snow ice cream which they gobbled up, and were therefore not hungry for lunch.  So yes, their nutritious lunch that day consisted of chips, buffalo chicken dip, and ice cream made from snow.  Gotta live it up on a snow day, right?!  In my defense, buffalo chicken dip does have real chicken in it.  Protein, carbs, and plenty of extra special vitamins and minerals in that fresh snow, right?
What crazy meals have you served your kids?  (…In other words, fess up… I know your kid ate cheese curls for breakfast yesterday!  It's ok, we won't tell your crunchy friend, Skye who makes her own kale chips and wears 3 children at the same time.  This secret will be just between us!)
Let us know if you try this "recipe"!
P.S. Substitute the milk for coconut milk and the sugar for Agave nectar, and you have just won yourself the crunchy Mama award for the day!  (Take that, Skye!)