Hi there! We use affiliate links where relevant for products that we love. This means that companies say, "hey thanks for telling people about us!" by giving us a small commission as a result (Trust us, guys, it's SMALL!) That being said, our opinions are always our own. Thanks for reading!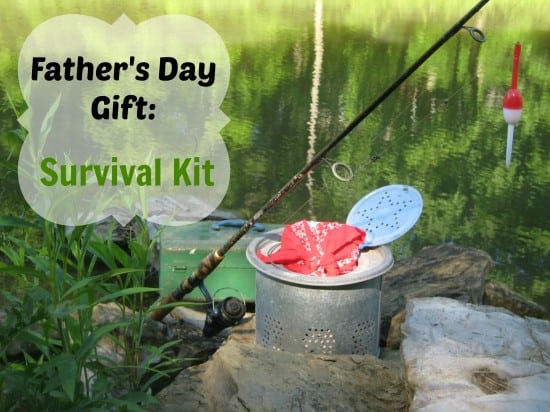 If you're looking for something a little different as a Father's Day gift for the Dad in your family, put together our first aid/survival kit for day hiking, fishing, biking or other outdoor activities that your family enjoys!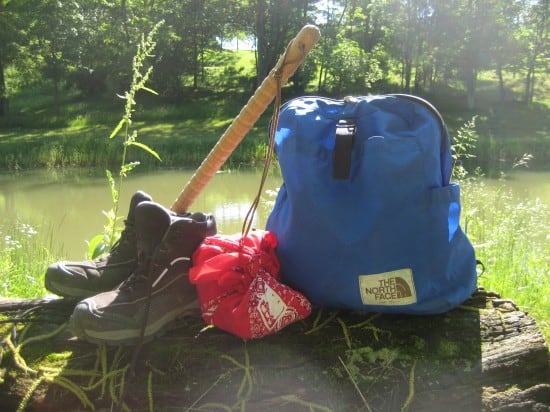 A novice or an experienced outdoor enthusiast will appreciate having all the tools for safety already assembled.
To assemble the items for the kit, I'm putting the items on a bandanna and then rolling on the diagonal and tying the remaining ends together. The bandana serves many useful purposes. You can use it to support a sprained ankle, tied around your head for protection from the sun if you have no hat, or as a washcloth.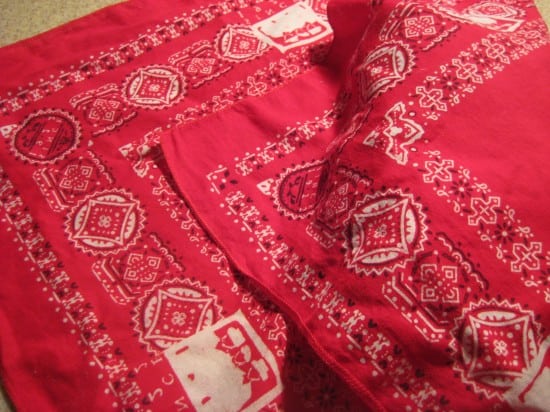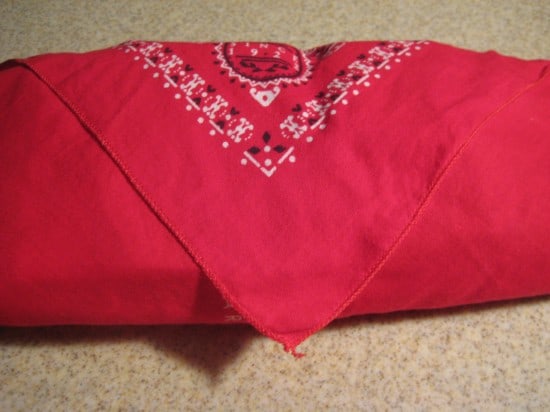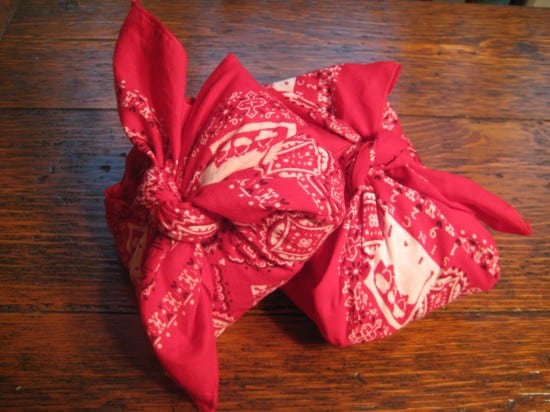 The first aid portion of our day pack includes many items found in your medicine cabinet. While not survival issues, a blister, splinter or a scrape can diminish the fun. Our multi tool added later in the exposure section of the kit, has tweezers for the nasty splinter or tick removal.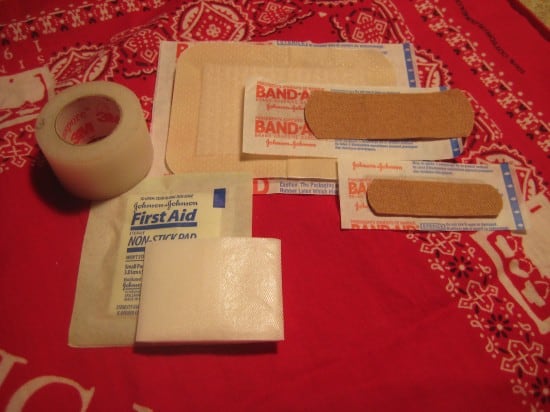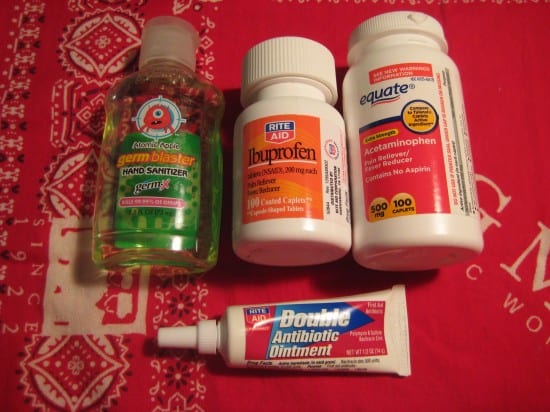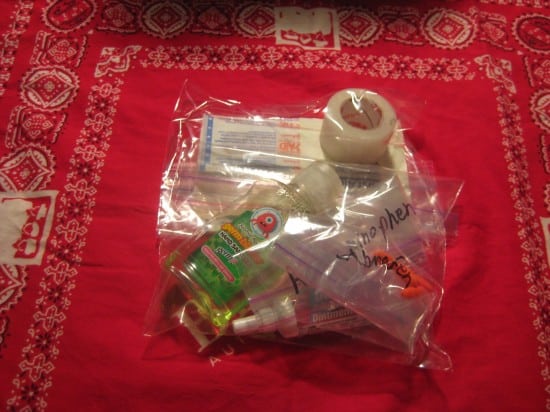 The following, all put inside a ziplock bag, are a few of the items selected: tape . antibiotic ointment . hand sanitizer . various sizes of band aids . pain reliever . sterile pad
The survival portion of the day pack is based on the rule of 3's. You can last 3 hours from exposure, 3 days without water, and 3 weeks without food.
For the exposure part of the survival kit we have added: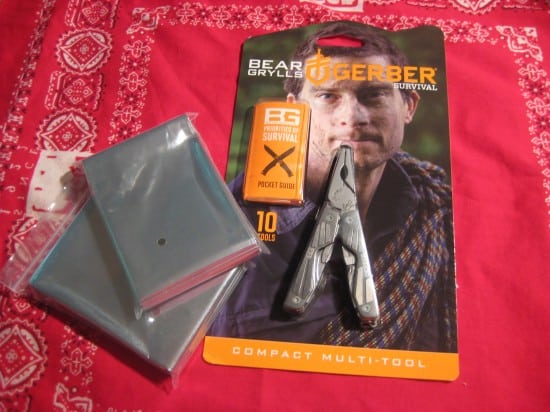 reflective thermal mylar blankets . matches . fire starters (see the DIY post on making your own) . a lighter . the Bear Grylls Gerber Survival Compact Multi-Tool (10 tools)
Each person should have their own mylar blanket. I added the lighter I had on hand but a small Bic lighter would work great. Add the homemade fire starters and you have the makings of a fire for warmth and signaling. The multi-tool has a serrated knife for cutting small branches for your fire or for shelter.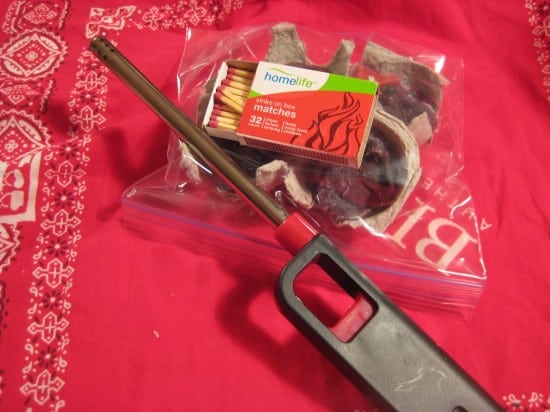 The last part of the kit addresses getting found! We are not addressing the "going with out food for three weeks" because we have ever confidence that if you're lost it won't be for long!
Include the following: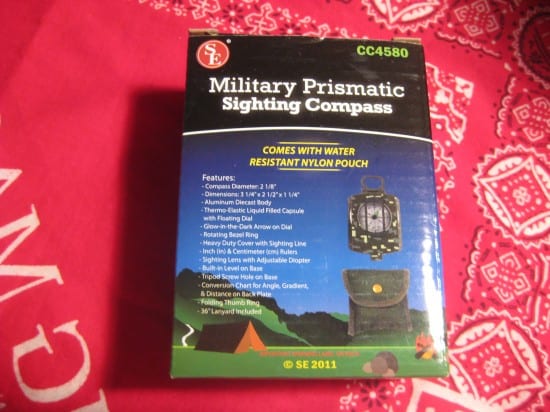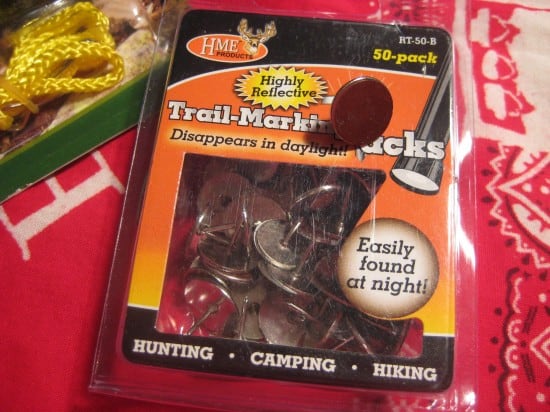 Military Prismatic Sighting Compass by SE . Coghlan's Wilderness Signal Whistle . HME Trail-Marking Tacks
Make sure you know how to use your compass before your hike. This compass has a case which fits on your belt loop or back pack or you can add it with the rest of the items in the bandana. The signal whistle carries further than your voice and will save energy. If you should go off trail for water or to survey your surroundings you can mark your trail with the reflective tacks so you can find your way back to base.
You will need water for your hike or other outdoor activities but take it in a metal water bottle. One that you can heat water in should you need to boil water to drink. The multi-tool has pliers so you will be able to lift the bottle off the fire without getting a burn
Perhaps the best thing for a safe outdoor adventure is planning. Inform a friend or family member or your plans, where your going and when you expect to return and then check in with them. Take a fully charged cell phone. Remember the important medical needs of the participants. Do you have the inhaler or the Epi-Pen? Put on the sunscreen and Deet before you leave.
For a fishing Dad, tuck your first aid/survival kit into a minnow bucket, and for a hiking Dad, add the kit to a new back pack. A great safe and prepared start on outdoor adventures with the kids…enjoy!