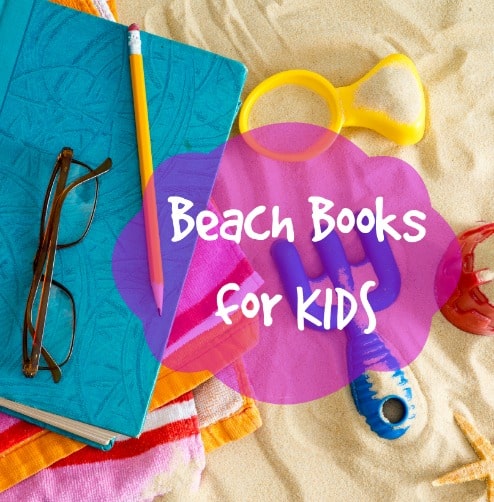 Today's book review will kick off our two week unit on the beach! Let's round-up some great beach books for kids.
I must confess, I'm not much of a beach girl. The sand, the salty air… it really doesn't do it for me. Somehow, though, of the 6 places we've lived as a military family, 3 of them have been VERY close to the beach! I'm discovering, though, that what I love about the beach is the chance to explore nature and learn more about God's incredible creation. There are some AMAZING creatures in the ocean and along the shore. I'm happy to share several books that will dig into those topics and get your children excited to learn more about the beach as well.
Over the Ocean in a Coral Reef This book has really unique, fun pictures! They were all made with Clay art, and you honestly will not see another book with art as unique as this. This book is a counting book going from 1 to 10 with different fish and creatures in the sea. It's great practice for a preschooler to count all the dolphin, etc. On the last page, ALL of the animals are together so it's a bit like I-Spy and your child will have to find 10 seahorses, 5 pufferfish, etc. I thought this book was pretty cute and unique, but Holden seems less interested in it. Perhaps it's the counting that makes the book seem like work to him 😉

Children's Book about the Ocean: Jellyfish This book is definitely geared more towards a child in late elementary school. I wanted to find a book that dug deeper on a particular ocean creature, and I learned a lot of new, fun facts about jellyfish. Holden (my 3 year-old) listened politely for about 10 minutes and then said, "This is not a real story." Definitely written as a non-fiction, wikipedia-style book, it still included tons of colorful pictures of different types of jellyfish. After reading this book, Holden will randomly bring up things about jellyfish, like the fact that they are mostly water or that if a fish touches their tentacles, the jellyfish will automatically pull it up into its mouth to eat. I recommend this whole series for tons of nature learning for the little naturalist in your home.
Seashells by the Seashore This was my favorite book in the whole bunch! It's a counting book, but the very fascinating aspect of this book is that it names the types of different shells. I never knew that there were so many different kinds, like a kitten's paw or a pen shell. The story is very cute, and at the end there is essentially a little shell index — showing a picture of each shell, what kind of ocean creature lives in it, and where you are most likely to find it. It's really a fun book that will keep your children exploring on their next beach trip.
I'll Follow the Moon: This is an adorable rhyming story about the journey that baby sea turtles make from hatching on the beach to swimming out in the ocean to find their mother. The repetitive line, "I'm coming, Mama, I'll see you soon. I know just how…I'll follow the moon." I found to be repeated a bit too often, but I'm sure kids will love it. What I REALLY loved were all the really lovely, creative sensory words that the author uses to describe the baby turtle's journey. She truly is a talented writer, as it's difficult to create such a beautiful, descriptive narrative that even a toddler can engage with. I highly recommend this book.
The Adventures of Pelican Pete: Preening for Flight This book has a cute, rhyming style that Holden always seems to find catchy when we're reading stories together. I like that it explores a little Pelican's journey towards independence as he first learns to fly and then learns how to dive towards the water to catch fish. Your children will learn a few new things about Pelicans and enjoy the fun rhymes. However, I must say that I think the ratings on this book on Amazon are majorly inflated! I thought that this was going to be hands-down THE best book about the beach based on the reviews. In reality, it's nice but nothing special. The other thing that irritated me a bit about the story was the environmental activism that was so blatant in the book. I'm all for doing what we can to take care of our planet, but the way things were phrased in the book that had nothing to do with the story just felt so awkward.
Well, I guess we'll end on that note! What do you think of these beach books for kids? I hope you enjoy exploring the beach this summer, and I hope that reading some of these books with your kids will get you all that much more excited to explore the seaside.