Hi there! We use affiliate links where relevant for products that we love. This means that companies say, "hey thanks for telling people about us!" by giving us a small commission as a result (Trust us, guys, it's SMALL!) That being said, our opinions are always our own. Thanks for reading!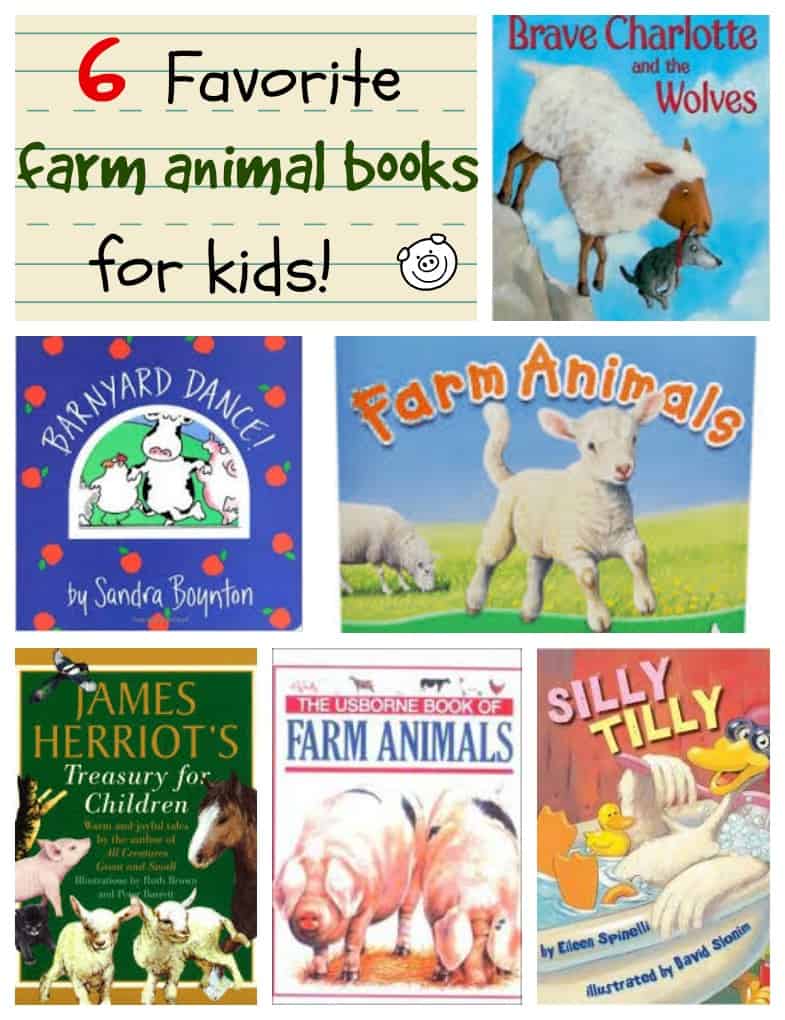 This week we are kicking off a new nature unit on farm animals.  We have lots of fun things planned such as a trip to a farm, learning more about farm animals on Science Sunday, and a fun farm animal craft project to wrap things up next week.  Today we are looking at 6 favorite farm animal books for kids so that you can head to the library and start reading up on all things farm animal in preparation for the fun week ahead.  I tried to pick books for various ages, and also some silly books and some informative books.  If your week is too busy to follow along with our farm animal unit, just pin our collage to Pinterest for future reference.  Summer is coming and you may be glad you have some go to books and activities pinned when the kids start to whine that they are bored.  Here we go!
Barnyard Dance! by Sandra Boynton is a fun board book for your little one.  The whole barnyard is having a square dance, and the rhythm of the square dance words will keep your toddler mesmerized.  Also by Boynton, my kids think Blue, Hat, Green Hat is hysterical.  Not Barnyard related, but fun!
For the older child who devours animal facts The Usborne Book of Farm Animals by Felicity Everett is a great choice.  This book is a great leaning tool for really digging in on the subject of farm animals.  The animals discussed in the book are sheep, cow, pigs, chickens, water birds, horses, donkeys, goats and rabbits.  For each animal you learn about their babies, different breeds, where they live, and many other interesting and informative facts about the animal.  As a word of caution, this book specifically addresses mating for many of the animals.  Although they are not overly explicit, and do keep things on a kid level, they use "scientific words" that I have not yet introduced to my kids yet.  The other day the kids were discussing the possibility of Ella our guinea pig having babies, and in their minds, all Ella had to do was get married and then she would have babies.  I really like their innocent version of the mating process, but maybe it is time to introduce a few more low key facts?  I don't know.  What do you think?
Another silly read that your kids will enjoy is Silly Tilly by Eileen Spinelli.  Tilly is a very silly goose and her farm yard friends get a little tired of her antics, but in the end they come around.  We thought this book was lots of fun, and it made the kids laugh!
Initially this list was supposed to be only 5 books, but when I ran across this one, I knew I had to include it.  Farm Animals by Lisa Regan is a fact filled book geared toward a younger audience.  I loved how this book kept things short and simple, yet gave interesting facts about each animal.  The illustrations are done really well, and I would definitely recommend this book for just the right amount of learning for the younger audience.  The animals covered are chickens, cows, sheep, piglets, goar, sheepdog, goose, donkey, ducks, and horse.  A definite must for the home library.
Brave Charlotte and the Wolves by Anu Stohner and Henrike Wilson has been a favorite at Grammy's house for awhile now.  Charlotte is a small little sheep, but she goes against the grain of the stereotypical sheep and is very brave.  I appreciate the message of bravery in this book, plus as a bonus, some sheep bullies get put in their place!  This is the sequel to the original Brave Charlotte by the same authors, but I think I prefer this one to the first.  Let me know if your have a preference.
I have saved my favorite for last!  James Herriot's Treasury for Children is my favorite in this collection of farm animal books.  James Herriot was a country vet in WWII and post WWII rural Yorkshire England.  He has written many books about his adventures as a country vet including All Creatures Great and Small, and his books were made into a BBC TV series in the 1970s also called All Creatures Great and Small (a good series if you can see your way past 1970s era TV).  I have read most of his books and love them all.  For a vet, he is a very descriptive and excellent writer.  Some of his stories will make you laugh out loud and some will make you cry.   The characters he describes in his books are so memorable and colorful, and for the animal lover, his touching portrayal of the animals he encounters is wonderful.   Although his books were written for adults, this Treasury for Children is a collection of his stories adapted for children and beautifully illustrated on each page with quaint scenes of farm life, animals, and rural scenery.  The book is 256 pages, but we sat down and read half of it in one sitting because as soon as I finished with one story, the kids wanted me to read the next.  I promise your kids will love this book and be as enchanted by the scenery, characters, and animals as my kids were.  And for you, add one of James Herriots books to your home library, you will come back and read it time again as you feel such a connection with the author, the characters, and the countryside.
Let me know if you find any of these books at your library and if you and your kids enjoyed them.  Any other farm animal book recommendations?  Pin this collection so that you are prepared next time you head to the library.