Hi there! We use affiliate links where relevant for products that we love. This means that companies say, "hey thanks for telling people about us!" by giving us a small commission as a result (Trust us, guys, it's SMALL!) That being said, our opinions are always our own. Thanks for reading!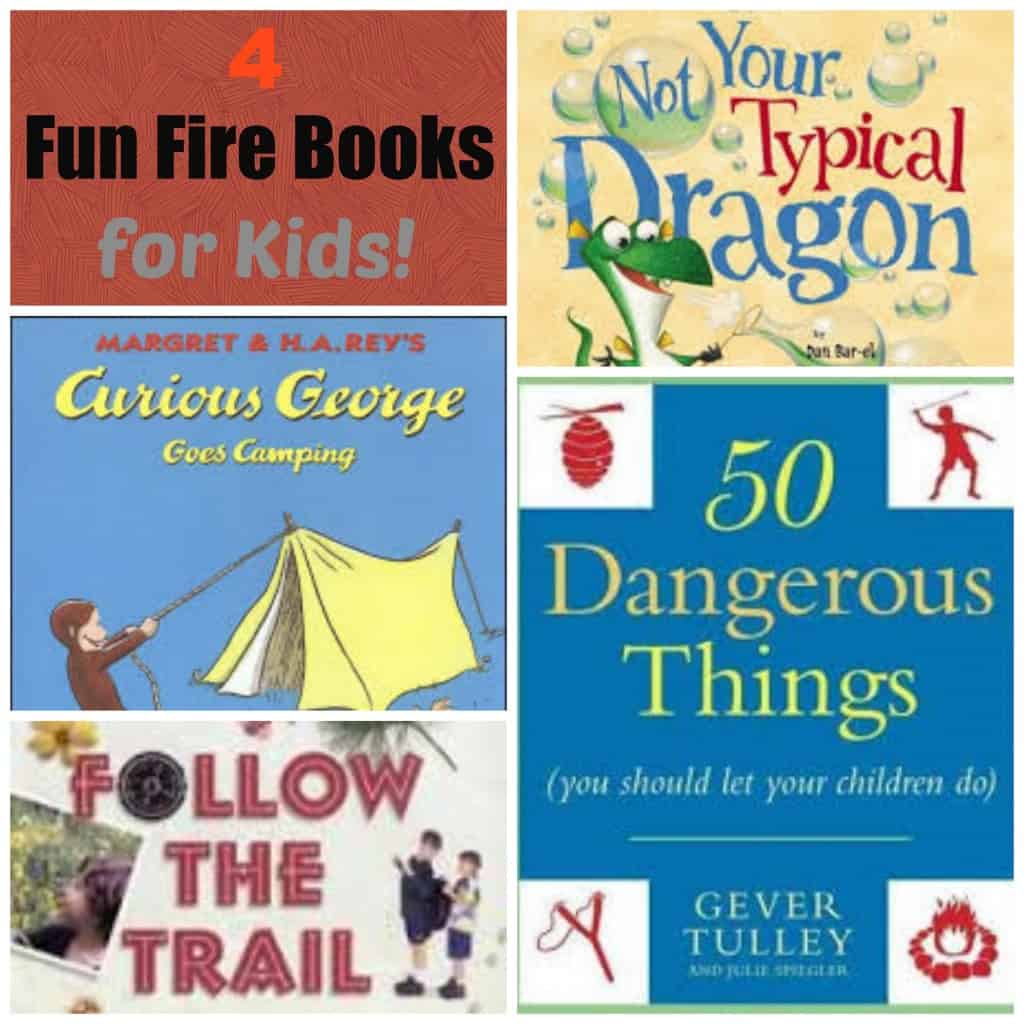 Fire never fails to capture the attention and amazement of children and adults alike.  What child (or adult for that matter) can resist poking a stick into a campfire, throwing random things in the fire to see what happens, or staring as the flames dance around?  We have found 4 fun books that address fire in some way or another, and appeal to various age levels.  You can find these at your local library.  Let's read about fire!
Curious George Goes Camping by Margaret & H.A. Rey is a great Curious George story.  As always, George manages to cause a bit of mischief, but ends up saving the day in the end.  George and the Man with the Yellow Hat go camping.  George is completely amazed at how water puts out camp fires, and promptly proceeds to put out everyone's camp fire!  I won't ruin the exciting conclusion for you, but needless to say, George's knowledge of how fire is put out with water proves to be very helpful in the end.  This is a fun read for young children up to early elementary-aged kids.
Follow the Trail by Jessica Loy is a fantastic find for children interested in camping and all things outdoors.  Late preschool through early elementary-aged children will love this picture-filled book about exploring the great outdoors.  This book covers topics such as camping and campsites, outdoor safety, hiking and map reading, identification of trees and wildflowers, animal tracking, and building a campfire various ways.  This book is visually appealing with lots of great photos and drawings, and the information is presented in an easy to read style.  Follow the Trail has just the right amount of information to intrigue readers and teach them new things without being overly wordy and technical.  This is a great book to bring along on your next camping trip.
Not Your Typical Dragon by Dan Bar-el is only loosely related to fire, but we loved it so much that I had to include it!  In this picture book geared toward preschool age children, Crispin Blaze is a young dragon that is supposed to breathe fire when he turns seven.  But when his big day comes, instead of breathing fire, he breathes out strange things such as whipped cream, Band-aids, and bubbles.  The overall message at the end of the story is that it doesn't matter if Crispin can't breathe fire; he is special just the way he is.  This is a great message for children of all ages to hear.  Definitely check this one out at your library, the kids will crack up at all the funny stuff that comes out of Crispin, and they will understand how important is to just be yourself.
50 Dangerous Things You Should Let Your Children Do by Gever Tulley is a very unique book with a message that today's parents don't often hear: a little controlled risk helps children to learn!  Doesn't every magazine always seem to spout out the dangers of this, that, and the other, for ourselves and for our children?  After pursuing a magazine in a waiting room I wind up feeling exhausted by all the things I should and should not be doing.  This book has a message that goes against the grain, and I like it!  Here are some of my favorite quotes from the forward and the introduction to parents.  "One might argue that there are a lot of dangerous things in this book for children, and anyone else to do.  I argue that NOT doing these things is ultimately a more dangerous proposition for ourselves, and society.  Of course we must protect children from danger — that's the promise we make to them as a society.  But when protection becomes over-protection, we fail as a society because children don't learn how to judge risk for themselves.  So we must help them understand the difference between that which is unknown (or unfamiliar) and that which is truly dangerous.  How do we build competence in children?  We do it by giving children opportunities to distinguish that which is truly dangerous from that which merely contains an element of risk; we introduce them to risk through measured, supervised exposure; we teach them how to explore safely, and set them on a path to exploring on their own."  In today's helicopter parenting society this book is a breath of fresh air.  This book does advise that each activity in the book might not be appropriate for every child.  You must judge which activities your child is ready for, and which ones they should wait a little to attempt.  Each recommended activity has a step by step how-to, and gives safety information for each.  Some of the activities included are licking a battery, throwing a spear, burning things with a magnifying glass,  super-gluing your fingers together, and burning various things in a fire.  Definitely a book for slightly older children, maybe late elementary school or middle school.  Imagine how excited your 5th grade boy would be to get a book like this on Christmas morning!
I hope you enjoyed our 4 Fun Fire Books for Kids!  Let us know if you take a look at any of these books on the topic of fire, or if you have any others to recommend!  Pin this collage to your kids activities Pinterst board so that you'll be able to find these next time you head to the library!  See you on Friday for our I Spy Friday: Fire!